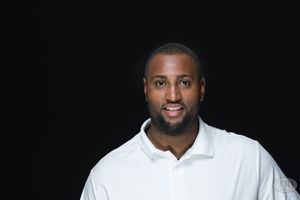 Chan Biography
William "Chan" Hall is a smooth jazz recording artist based in Richmond, Virginia. The name Chan is derived from Channing, which is a family name. He is influenced by greats to include Herbie Hancock, Brian Culbertson, Marcus Johnson, Bob Baldwin, and Joe Sample. He has performed along the East Coast of the United States and has shared the stage with greats such as, Ramsey Lewis, Herbie Hancock, George Benson, Al Jarreu, Gerald Albright and Norman Brown.  
The Wilson, North Carolina native began honing his piano skill at the age of 15 and quickly became a versatile percussionist in his high school's concert band. He was featured on xylophone, vibraphone, marimba, and auxiliary percussion instruments. Because of such a display of musicianship, his band instructor introduced him to the world of jazz through the study of Chick Corea's music. After moving to Richmond, VA, he began to find a deeper passion for piano and jazz. Several months of classical training coupled with private jazz lessons sparked the genesis of Chan's distinctive sound. He later enrolled in the Jazz Academy at Pine Camp under world-class jazz saxophonist, James "Saxsmo" Gates. He later produced his debut album, Dreaming Afterdark, in 2011 which gained buzz throughout the mid-Atlantic jazz community.  
In 2015, Chan released his sophomore album, Musical Addiction, a collection of diversified compositions. This album showcased his ability to produce a multi-genre album while simultaneously maintaining the integrity of jazz music. This album proved contemporary jazz is not the limit for Chan, and there are no ceilings for his creativity. Musical Addiction was his first album to cross US barriers and attract international recognition in Italy, England, Germany, and Australia.  
Chan's newest release, EnCHANtment, journeys listeners back to his roots in contemporary jazz.  EnCHANtment is bursting with smooth jazz for everyday people in need of relaxation through music. Much like his sophomore album, EnCHANtment has also crossed international boundaries and was considered in the 1st round ballots for a Grammy nomination of 3 categories:  
Best Contemporary Instrumental Album 
Best New Age Album  
Best Jazz Instrumental Album 
Chan's new album SOMETHIN' 2 PROVE is playfully ironic considering that the Richmond, VA keyboardist/composer's previous albums have earned international acclaim as well as several Grammy nominations. On the new collection, the multi-talented artist blends dreamy chill atmospheres, immersive R&B and edgy urban jazz with the sparkling assistance of guest artists, trumpeter Bill McGee and saxophonists Chris Sclafani, Tony Craddock, Jr. and Marcus Anderson. The media affectionately calls Chan a "smooth dude" because of his demeanor and consistency in producing therapeutic outlets for relaxation through music. Stay tuned for what's in store for this bright musician.